Books
Kodiak, Alaska - The Island of the Great Bear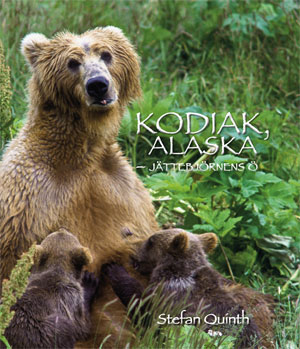 ---
Kodiak, Alaska - The Island of the Great Bear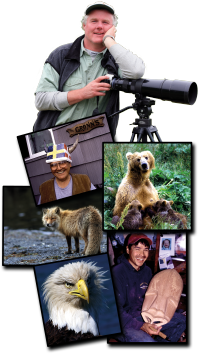 With its high mountains, clothed in emerald green and cut through with deep blue fjords, Kodiak, located in the Gulf of Alaska, is one of the most enchanting places I've ever visited. The rugged terrain has protected the islands from human exploitation, leaving the wilderness virtually untouched. This is the home of the Kodiak bear – the world's largest land predator. I first came to Kodiak in 1988 to film the beautiful scenery and the giant bears on the island. What I hadn't anticipated was the infinite hospitality of the people, who welcomed me like family. Since the early days of the Sugpiaq, through the invasion of the Russians, and the subsequent sale to the Americans, the people of Kodiak have enveloped the foreign cultures that washed upon their shores, and have developed themselves and their culture into what it is today – a celebration of diversity and harmony. Every time I step off the plane at Kodiak's airport, I take a deep breath and think, "It's good to be home!" In this book, I would like to introduce you to some of my friends on Kodiak and share with you the mysteries of Kodiak's history, the diversity of cultures, the richness of the environment, the enchantment of the wilderness, and the gentle character of the giant bear. Welcome to Kodiak, Alaska – the island of the great bear!
Stefan Quinth
Take a peek inside!
---
We started reading your book this morning over a nice cup of coffee... Wonderful stories, great pictures, amazing book! So glad we picked one up yesterday! Thank you!
- Jamie N Sarah Zurflueh
I think this is the best and most beautiful Kodiak book ever! Great Christmas gift idea - I'm buying some today.
- Laura Seale Blackwood
We are enjoying our copy. Hardcover. Shows off the island bears and history well. Thank you, good work!
- Lori Graber
This is a beautiful book!
- Marion Owen
Resan Falun - Röros
---
The greatest cultural historical expedition in Sweden 2003
This book comes with an english companion. A summary of the book material and a translation of all the picture captions.
For thousands of years they trudged through the winter landscape, steam rising off the horses broad backs, fur klad men urging them on as they pulled the heavily loaded sleighs along the winter trail. Like todays truckdrivers hauling goods across the country, these traildrivers transported goods from Dalarna in Sweden to the ice free port of Trondheim, Norway and back again. There were no roads, no railways, but with sleighs that glided through the snowy woods and across the frozen lakes, the valuable but heavy loads of iron and iron goods could be shipped to Trondheim and from there out into the world.
The traildrivers brought more with them than just goods. They travelled in groups, convoys if you will, from village to village, stopping at farms along the way to rest, bringing news of friends and relatives, stories from the cities, and strange new things that had come from distant countries. With them they had musicians who would entertain the entire village in return for their hospitality. Freindships and marriages were formed all along the trail uniting people from Trondheim to Falun. The lifestyle and culture of these traildrivers runs through history, much like the wintertrail runs through the landscape, changing and forming the people and culture along the way. Much of the culture of Sweden and Norway that we enjoy today, has been influenced, if not created, by the traildrivers that once traveled along the wintertrail.
Many of the farmers from Dalarna were traildrivers during the winter, a much needed supplement to the family economy. A warm winter, when the land was bare, and the lakes didn't freeze, was a catastrophe that could lead to starvation, sickness and death in all of Dalarna. The wintertrail, which has been traveled since the time of the vikings, was in use, at least in part, until the 1920's when the railroads and highways finally took over transportation.
The winter trails formed a network all over Dalarna, linking the iron and copper mines to the ironworks, and the ironworks to the main road that led to Norway and the world. The horses could pull loads of iron ore weighing up to 1½ tons to the ironworks, where the iron was made into nails or scythes. Thousands of scythes made in Dalarna were transported, via the winter highway, to ships headed for America. Well unloaded in Norway the sleighs would be reloaded with herring, whisky and other goods for the return trip to Dalarna.
In the spring of 1999, nineteen enthusiastic men and women formed the Dalarna Femund Forkörarförening (Traildrivers club). A diverse group with diverse backgrounds, careers, and interests, and ages that span the generations. Their common ground is a passion for horses and an interest in history and culture. While there are several other groups that drive the horses and sleighs along parts of the wintertrail offering thrills and adventure to tourists, this group focuses on authenticity.
Their sleds, clothes and tools are either antique or carefully reproduced to be as authentic as possible. Even the food they eat along the trail is the same type of food that their ancestors once ate. And instead of hauling tourists along the trail they haul iron goods, coal, skins and handiwork. For many years the dream had been to travel the entire wintertrail from Falun, in Dalarna, to Röros in Norway, a distance of 430 km.
Every year in February a huge outdoor market is held in the beautifulRöros city of Röros, located in the mountains of Norway. The 150th market was to be held in 2003 and that seemed like a good year to attempt the great expedition. It had been 100 years since any group of traildrivers had left Falun on their way to Norway. The trail had been overgrown and forgotten or replaced by asphalt highways. And the mild winters we have experienced during the last decade did not look hopeful. But after careful research and a prayer to God for a cold winter, the plans were made.
On February 2, 2003 a group of 30 men and women and 20 horses with sleighs, drove along the historical streets of Falun and out into the forest. The lakes had been frozen for weeks and for two days the rain had turned to snow, covering the ground enough to give the sleigh glide. Eighteen days later, after a few very cold days, some snow, sleet, fogg and rain, visiting churches, villages, and historic farms and one night around the fire in the woods, some tears and quarrels but mostly laughter, music and good fun, a group of tired but happy traildrivers arrived in Röros, welcomed by thousands of happy marketgoers.
Take a peek inside the book!
Kodiak Bound
---
"You're going to do what?"
"You're nuts!"
"Must be gluttons for punishment!"
Just a few of the reactions we received after revealing our plans for this Grand Adventure. Apparently travelling with kids is not necessarily equated with joyous living. After completing the journey, and surviving it, many told me I should write a book, a "How to" book. Honestly I don't feel qualified to give expert advice on that subject. I believe that all people are different, some enjoy travelling and some prefer to stay at home. I believe that applies even to children, and I believe that our children were born to roam! Having children who enjoy watching the world roll by outside the car window, who scream with disappointment when a 10 hour-long journey is over and we are finally home, who begin each morning with "Where are we going today?" certainly makes travelling easier. Who am I to give advice to the vast majority with "normal" kids? Having said that, I may just have a few tips to offer anyway.
May-Britt - My Life's Journey
---
This is the story of a young girl growing up in rural Sweden with dreams of the Promised Land, America. May-Britt grew up on a farm in the most primitive part of Småland, Sweden. As she shares her memories we learn what life was like on the farm that was located so deep in the forest it was called, "The end of the world." "Growing up, I never dreamed I would one day be living in the Rocky Mountains of Colorado," she says laughing. But dream she did, and those dreams took her on a long journey filled with laughter and joy, hardship and sorrow, adventure and excitement.
She dreamed of becoming a nurse, but when her mother died she had to leave school and return home to help care for her sick father and her five younger siblings. She dreamed of adventure and was one of the first to travel by airplane to America, where she found work, bought a car and drove across the country. While returning home to Sweden in July 1956 her journey came to an abrupt stop when her ship, the MS Stockholm, collided with the Andrea Doria. The Andrea Doria sank and the Stockholm limped back to the New York harbor, and May-Britt had to wait for another ship. She dreamed of love. One day, while driving up highway 101 in California at 80 mph, she and her girlfriend spotted two young men in a car in the next lane. Smiling and waving, the men followed the girls to a gas station and asked them if they would like to have coffee with them. More than 50 years later, May-Britt is still married to the man she met on hwy. 101. She dreamed of prosperity and began early to find ways to make money: catching leeches in a nearby lake to sell to her Grandmother who used them to suck the blood from her swollen legs; selling fish door to door and picking berries to sell to the local store. Later, beginning with nothing but their willingness to work hard and a book titled, "How to Make a Million Dollars in your Spare Time," she and her husband began buying real estate, one fixer upper at a time. Now retired, she looks back at the successes and failures they have experienced throughout the years.
This is the story of a young girl who refused to give up on her dreams despite the many obstacles rising up in her path. It is a story of determination and hard work, of love and laughter, and of God's grace and provision.
According to me
---
I've come a long way in the seventy-six, and counting, years I've walked on this earth. From a farm in Denmark, where I warmed my feet in the morning in fresh cow pies, to the majestic slopes of the Rocky Mountains of Colorado. It's been quite a ride, this thing called life. Looking back, I have my regrets, but mostly I am astounded by the abiding grace and the immense blessings that have been poured out over me. I hope that in some way I've been able to share at least a fraction of all I have been given. Anyway, this is my life, according to me.
It has been a life filled with excitement and a lot of hard work. I have had two careers, one as a painter and the other as a building contractor. I have built homes and developed neighborhoods. I was a volunteer Deputy Sheriff, and have been involved in Rotary and the Chamber of Commerce and spent years working to improve the lives of orphans in Mexico. I have pursued and enjoyed many hobbies, flying, diving, sailing and, above all, traveling. It has been a privilege to travel around the world; something I'd always dreamt of doing, but never really had the time while I was working. Since retiring I've been blessed with, not only the opportunity to travel, but also to share the gospel with people who had never heard it before.